Chuck!!! Where are you?!?!?




Stop. Do not go to another page without reading this first. Two of our Chucks are missing and we need YOU to find them. Having their faces painted on milk cartons across the country, we have been given little clue of their where-a-bouts. Please take a good look at these two lost souls and find it in your heart to give us a call. We need to find them NOW. So please, call us at:

1-800-lst-chck

Last picture he was in with his family.
Chuck come back!! Both of you!

Last seen on: March 5th, 1974

Chuck #1


Have you seen me?

Last seen on: December 16th, 1974



Maybe you've seen me?
Hearing the news for the first time.
A noticably distraught family.

Both Chuck #1 and #2 can be seen with either a sandwhich and/or basketball in hand. Do not threaten Chuck. It has been many years since he has been seen publicly and authorities do not want to scare him--some say he could be dangerous.
And Yet Another Carton of Milk Spoils..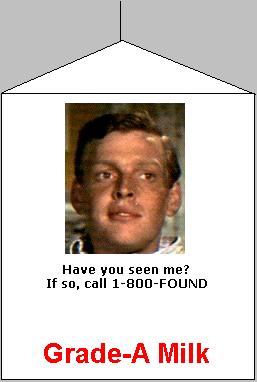 Have you seen ME?