Need a pad, but can only afford cheap? Well, cheap is what we got at Milwaukee Apartment Complex #207 tended by Louisa Arcola. Sure, it may not be tended by Mrs.Babbish, and you may not have neighbors like Lenny & Squiggy, but you got Potsie and Ralph!
Sorry! Not in this complex!!
Click for my Laverne & Shirley site

$60/month? No hassle? WOW! Where do I sign up? Right here! Just fill out your name, (fake) telephone number and a brief description of yourself and we'll see if your 207 material! If not, its off to the other side of town with, yes, the boys!
Welcome neighbor!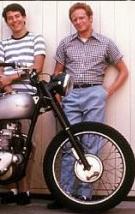 Hope you like tap-dancing!

Crystal (¤MsConanOBrien¤)
555-2456
Torn between two redheads, Im hoping that living with a different redhead and the Crest spokesperson will land me my own show on HBO based on the HDM.


Jack (IStillGotIt)

(214) 555-9825

Hi, guys this is Jack, I am 13 and a half. I like to watch movies, listen to music, and watch tv and go on the computer. My fav. TV shows are Saturday Night Live, Happy Days, SpongeBob SquarePants, Get Smart, Mary Tyler Moore, TRL, Monty Python and old Hollywood Squares with Paul Lynde. I am a HUGE! Ralph and Potsie fan, and would like to be your neighbor guys!

Jessica (FonzFan)
555-5326
I'm 16 and a half years old. Blond hair, blue eyes, and 5'7". I love any movies, books, tv shows, or conversations involving Happy Days. Love to talk!!!! I play tennis, golf, and the piano and love to dance. And I'm just a HUGE FAN of HAPPY DAYS


Name: Daisy (White_Daisy)
777-7914
I would describe myself as an official Potsie stalker. We are one of a kind, of course. I have an unwavering devotion to Potsie and if I could move in next to him, I would do anything for him!!! And I'd help Ralph get dates if he agrees to let me move in too!! I'm willing to give up my life and my freedom just to live next to Potsie Webber forever...till death or out of town college do us part!

Name: Mike Zonf (FonzForever)
555-4588
Handsome NJ man, 6'0" average build moving to Milwaukee looking a cool pad. Likes parties, malteds, chicks, and nice clothes. Will pay for cable if necessary.

Name: Chad Doody (Chad Doody)
555-5555
Tall dark and handsome. Spends days riding his yacht and eating at the finest restaurants in town. Ok, That was a lie LOL. About 6'4, Black Curly Hair, Spends most of his free time watching TV and playing video games. Enjoys using the term "Reeks Of Awesomeness", Wears Cardigan Sweaters and Secretly enjoys watching Sesame Street and Muppets.


Name: Katie Macy (Katie_NY)
KL5-1958
Average height 5' 6", Dark brown hair with burgundy highlights, Nice, knows how to
have fun and loyal. Loves living in the city. New Yorker attending UVW, looking for off campus housing.