$60/month? No hassle? WOW! Where do I sign up? Right here! Just fill out your name, (fake) telephone number and a brief description of yourself and we'll see if your 207 material! If not, its off to the other side of town with, yes, the boys!
Welcome neighbor!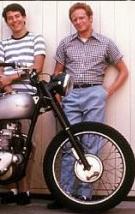 Hope you like tap-dancing!
Jack (RichPotsRalphFonz)
(214) 555-9825
Hi, guys this is Jack, I am 13 and a half. I like to watch movies, listen to music, and watch tv and go on the computer. My fav. TV shows are Saturday Night Live, Happy Days, SpongeBob SquarePants, Get Smart, Mary Tyler Moore, TRL, Monty Python and old Hollywood Squares with Paul Lynde. I am a HUGE! Ralph and Potsie fan, and would like to be your neighbor guys!
Jessica (FonzFan)
555-5326
I'm 16 and a half years old. Blond hair, blue eyes, and 5'7". I love any movies, books, tv shows, or conversations involving Happy Days. Love to talk!!!! I play tennis, golf, and the piano and love to dance. And I'm just a HUGE FAN of HAPPY DAYS.