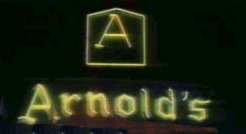 Where can you go for a bite to eat? Or jukebox tunes for your dancing feet? Where can you fall in love while the BIG A spins above? Its great food with good friends @ Arnolds. Burgers and fries for you are your pal, served up fresh by Arnold or Al, if your in the mood for a TV hit, just grab a chair and sit on it!
Arnolds...Where ANYTHING can happen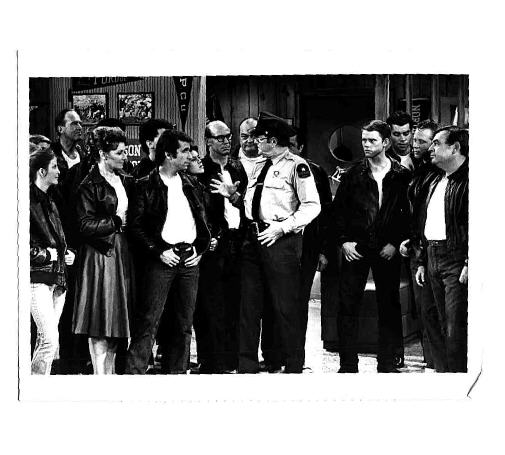 Its a Fonzie revolution!!!!!
Big Al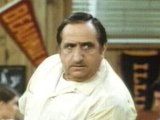 "Put your head on my shoulder....."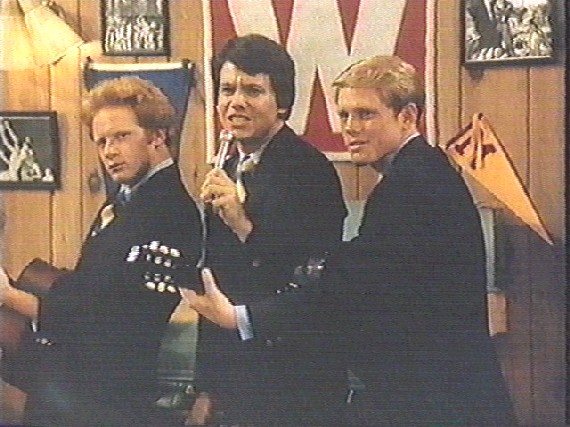 Guys & Dolls put your hands together for....."The Band"
Arnolds. The place to be, where all the kids go. Theres food, dancing, music, and-of course-The Fonz. Whether Arnolds there making fried chicken or Al is wondering about the sales of fish, theres always a great manager who connects with the kids. When there is a dilemma expect Fonzie to snap his fingers and away you go into the Guys room (unless of course your Potsie and only go to one *Conference Time*). All the problems seem to be fixed there and when you get out there is a sigh of relief (no pun intended..well, maybe.."I still got it!"). So order a chocolate malt and a side of fries and sit down at The Booth.
With a jab of his fist, The Fonz has music playing on the jukebox. Ever wonder some of their song list? Try H-14, a Potsie favorite, or whatever your heart desires. Just check out the list, and while your at it play some pinball with Nip-It.
1. Rock Around The Clock
2. All Shook Up
3. (You've Got) Personality
4. Put Your Head On My Shoulder
5. Jailhouse Rock
6. Honeycomb
7. Hound Dog
8. Splish Splash *The Band* favorite
9. Smoke Gets In Your Eyes
10. Theme from "A Summer Place"
11. Young Love
12. At The Hop
13. Yakety Yak
14. Blueberry Hill *Richies pick*
15. Tutti Frutti
16. Happy Birthday, Sweet Sixteen
17. Twilight Time
18. A Teenager In Love
19. Great Balls Of Fire
20. The Twist
"You guys really need to get a name."

"Yup, yup, yup, yup, yup, yup, yup."

"Bahahaha!"
The Booth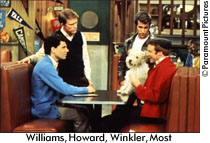 Where problems are solved...
Conference Time!

Some guys are good lovers and some guys are good fighters. I happen to be both.